Shutterfly has an amazing selection of cards and books.
I love love love their photo books! Recently I have found a love of their greeting cards, as well.
With their high quality and competitive price, they just can't be beat.
I recently made this card...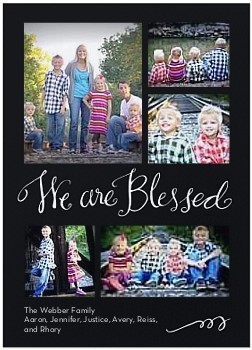 We Are Blessed Religious Christmas Card

I will likely use this as my Christmas Card, but if I get impatient I may send them out as a Happy Fall card prior to Thanksgiving. The out of town family always loves an unexpected card with pictures of the kiddos!